About Our Club
We are a traditional members' squash and squash57 (a.k.a. racketball) club. We provide very high-quality facilities to our members, promote the sport in the local area, and are an active part of the Surrey squash community.
Squash is, above all, great fun to play. The health benefits of the game are well known: playing regularly increases physical fitness, strengthens the heart, improves agility and increases mental alertness. Squash is one of the most physically exerting of all sports—intense play can burn over 1000 calories an hour. But it is the competition, fun, and enjoyment of playing which hooks people into the game and keeps them coming back to play week-in, week-out, for their whole lives.
Like any competitive sport, the determination to improve and to win is a huge motivation factor, and one that is just not found with cardio machines. Squash is also very convenient—it can be played at any time of year, only needs two people, and fits into a lunch hour. Uniquely among racket sports, it can even be practiced solo.
Our club is run by people who enjoy playing squash (or racketball) and know first-hand the huge benefits that the game brings. We aim to provide the best facilities and experience to our members, to keep them enjoying and to promote this fantastic sport.
Facilities
Our clubhouse in Horsell contains three adjacent squash courts, a bar and viewing gallery upstairs, and changing rooms downstairs. All our facilities are free to use for members—so there are no court light fees or other per-game expenses. After paying your subscription, you can play as often as you like!
Courts
As an authentic squash club, our absolute top priority is our courts, and we take great pride in their appearance and upkeep. The court walls are lined with pristine Armourcoat plaster, and the floors are sanded maple boards laid on sprung joists (to reduce impact on players). We close the club for 5 days annually in order for the courts to be fully repaired and refurbished by squash court specialists—the floors are resurfaced, the walls and playlines are repainted, and the lights and other fixtures replaced. The courts are also swept and vacuumed daily. Our courts are always in tip-top condition, and a pleasure to play on.
We have gorgeous glass balustrades to courts 1 & 2, which provide better viewing and an increased sense of space in the upstairs areas.
Overhead heating is installed on Courts 1 & 2, and all courts are sanded and freshly painted/overhauled on a regular basis.
Additionally, all courts have LED lighting and glass doors.
Bar, Changing etc.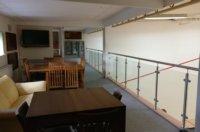 Our bar is open Monday to Friday from about 6:00 pm to 8:00 pm, and most Saturday afternoons when vets matches are played. The bar, if not staffed, will normally be available using an honesty system later in the evening. There is a large selection of bottled beers, soft drinks, and snacks on offer, all very reasonably priced.
Online Facilities
This website is mobile-friendly and has a number of features to help our members organise their squash:
online court-booking, with iCalendar updates (works with Google, Apple, Microsoft, and most other calendars)
online leagues and tournaments, with score entry and results tables
a configurable system for stand-by notifications when court bookings are cancelled
the facility to send a calendar invite to a match opponent
access to members' contact details, with single touch email, telephone, and SMS links, for arranging matches.
There are touchscreen and standard computer terminals at the club for members' use. Courts can be booked up to 8 days in advance, with peak-time bookings limited to one per member per day.
Competitions & Teams
Surrey County Teams
The club has a number of teams competing in the Surrey county leagues:
4 teams in the winter leagues
3 teams in the summer leagues
3 veterans teams
1 squash57 (racketball) team
1 vintage team
Our first team are currently in Division 4B of the Surrey Leagues, and as Surrey is one of the strongest squash counties in England, the standard is extremely high. There is always very good support for the first team at home matches, and these events are posted on our Facebook page as well as on the website. All Surrey League match fixtures are shown on the homepage of this website, and on the county leaguemaster site, so if you live locally and would like to watch some high quality live squash, please come down and lend your support!
Club Competitions
Our annual tournaments are held in spring, with knockout competitions in various categories, and squash and racketball handicap competitions. Prizegiving takes place at the end of finals day.
We also run a large number of internal squash leagues (normally 10 or more), catering for the full range of ability at the club. There is also a racketball league and a junior ladder.
The squash and racketball leagues and tournaments are maintained online and may be viewed on personal devices as well as the touchscreen monitor outside the courts at the club. Reminder emails with opponents' contact details are sent out at the start and end of these competitions.
Social
We pride ourselves on being a very active and friendly club. After a game, many members choose to head upstairs for some detailed post-match analysis over a few drinks at the bar! We also organise social events throughout the year—tournament finals day and prizegiving at the end of April is always very popular; there are also quiz nights, racketball fun competitions, events for Haloween and Christams. and quiz nights etc.
Members are allowed to bring guests to play at the club, the Guest Fee is £8.50
Thursday nights are dedicated to Club Night, when members and visitors can turn up and play the next available player regardless of their standard. Play starts at 7:45 pm, and playing sessions are 20 minutes long (15 minutes if busy) to ensure everyone has a reasonable time on court. Regulars at club night tend to play doubles later in the evening, and stay for drinks and a bite to eat after.
If you think you might be interested in joining the club, please come along one Thursday evening for a game—the only requirement is that you bring some clean non-marking shoes. If you would like to know more, please email clubnight@wokingsquashclub.org and we will be happy to meet you there and show you the ropes. New members have found that playing at club nights is a good way to work out which league they would be best to start in.
Club History
The current grounds are leased from the Horsell Sports Ground Association (HSGA), which was set up just after the first world war by a group of Horsell residents, for the purpose of acquiring and adapting a ground in Horsell for "sports, games and other events for the benefit of the village." The land next to Brewery Road and Arthurs Bridge Road was purchased by HSGA for the sum of £1,400 in the early 1920s. Woking & Horsell Cricket Club, which had been founded in 1905, and Horsell Football Club (founded in 1921, since merged with Woking Park) moved into their current ground on the site in 1923.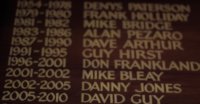 Woking Squash Rackets Club was founded in 1954 by Denys and Jane Paterson and Ken Ouin, who organised use of the courts at the Wheatsheaf Hotel in Chobham Road, Woking. These courts were closed in the early 1960s, but the club's teams continued to play in the Surrey Cup, under the captaincy of Eric Williams, despite being without a home.
In the mid–1960s, through the efforts of Denys and Jane Paterson, Jim Marley and Peter Lewison, the squash club negotiated with HSGA for a piece of the sports ground on which to build squash courts. The original plan was for a large joint scheme with the cricket club, incorporating a new cricket pavilion, squash courts, dressing rooms and a shared bar and social area. The two clubs' plans diverged in 1964, no doubt due to the eagerness of the squash club to find a permanent home, and it was settled that the squash clubhouse would be independent from the cricket pavilion.
Grants were obtained from the Department of Education and the National Playing Fields Association (NPFA), and with the help of a loan from Woking Council, the new clubhouse (originally containing just two courts) was completed in 1965. Due to high demand, a third court was later added. Denys Paterson was chairman of the club from 1954–1978, and was its president until he passed away in 1992.
The future of the three clubs was threatened in the 90s. The trustees of HSGA had dwindled, such that in 1993 the land became Bona Vacantia (owned by the Crown). This resulted in a proposal for a large supermarket and an affordable housing scheme, which would mean the loss of the sports clubs. In 1995, the Horsell Residents' Association provided support to the last remaining trustee to try and retain the sports ground. Complicated and protracted negotiations took place with the NPFA, the Treasury Solicitor, and the Charity Commission in order to create a new trust. A new HSGA was eventually created, and held its founding meeting in December 2001. The transfer of the land to the NFPA as custodian trustees took place a few months later. The constitution of the HSGA now governs the activities permitted on the ground, held in trust for the residents of Horsell. It cannot be used for development except under the conditions of the HSGA constitution.